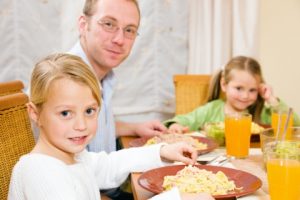 In this day and age, finding time to have dinner as a family can be a challenge. 
Most of us are so busy that we end up grabbing a bite to eat for dinner in between activities, but making time to have a family dinner is incredibly important for the whole family, especially your children. At Smart Start Child Care, we offer child care in Bowling Green that is focused on helping your child grow up to be informed, healthy and happy, and that still applies when a child leaves our care to go home. That is why our experts have come up with the following list of the benefits of family dinners for kids.
How family dinners benefit kids:
Longer conversations with adults (like at the dinner table) help to improve a child's linguistic development and thinking skills.
Family dinners help contribute to a child's development, even more than reading them stories or playing with them.
Kids who eat at least four weekly meals with their families tend to do better on achievements tests.
Family dinners encourage better relationships, not only within the family but also with friends and other relatives.
Kids who eat with their families eat more fruits and vegetables.
Kids who attend regular family dinners are less likely to be suicidal, get depressed or develop an eating disorder.
Eating family dinners drastically lowers a child's likelihood to engage in drugs, drinking and smoking.
Kids who eat at home with their families tend to get better grades in school.
We've touched on just a few of the many benefits of family dinners for children, and as you can tell, eating as a family is incredibly important. So, start taking time out of your busy schedule to eat as a family!